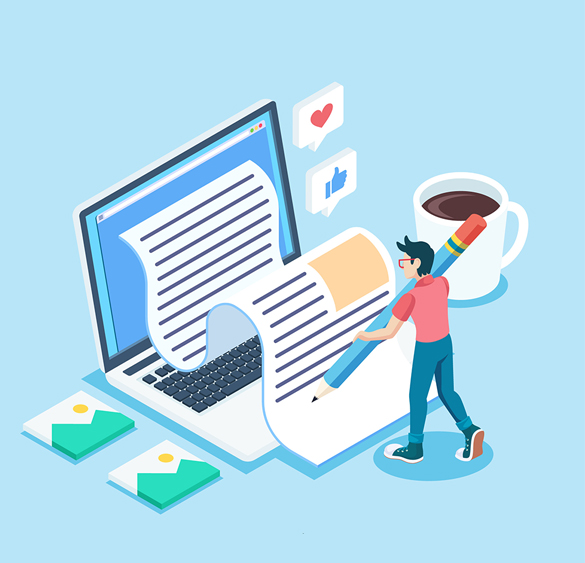 Content Marketing
Content marketing is strategies that help business and organizations to catch the attention of prospect buyer and by creating and sharing free and valuable content. This is not directly attached to sales and revenue instead, it builds trust and rapport with the audience and prospect customers.
---
Steps to build a robust content marketing strategy
In order to launch a successful content marketing campaign firstly it required to develop a foolproof plan such as.
Understanding the business goals.
Target the audience as per product or services according to demography, preference, buying habits.
Analysis of content inventory based on topic, timeline, data formats and metrics.
The content theme is significant to grab the attention of the user.
etting goals to measure the success of the campaign.
---
---
Our Process to implement your content marketing campaign
Only creating the content is not essential to get maximum benefits and engagement moreover the marketer has to apply it with full planning and process. Our team is expert enough to ensure the total value of your every content marketing spends.
We know the marketing objective of yours and figure out the purpose of content in a different stage of consumer purchase funnels such as Awareness, Consideration, Purchase and delight.
After getting to know the purpose of your content then we move further to decide the media of content on which content to be launched such as Image, Audio, Video, and Text ETC.
Then we proceed towards content formats, this is a significant factor while creating the content now the trend is presenting your product while comparing with others that are currently being loving by customers.
The Theme is very essential elements of contents since it is the theme which firstly came across to user and if it is catchy and curious then only user will hold him and see the content.
When all the functions decided, then we reach a point where we have to determine the content distribution platform on which content will be published. It could be website, social media, ETC.
---